INJEX50 Meso
Is your fear of needles standing between you and a better looking you? Fear no more!

Mesotherapy is a technique that utilizes a series of injections to perfuse liquid preparations inclusive of medications and other substances into the subcutaneous tissue (the "mesoderm") to treat local medical and aesthetic conditions.Mesotherapy has been used in Europe for over 50 years.
It was developed by French Physician Michel Pistor, M.D. to treat a variety of health ailments.It is a non-surgical cosmetic medicine treatment which employs multiple injections of pharmaceutical and homeopathic medications, plant extracts, vitamins, and other ingredients into subcutaneous fat.
Mesotherapy is used to treat cellulite, unwanted fat, wrinkles and aging skin as well as sagging skin, aged hands and excess skin or fat on the neck. Mesotherapy injections allegedly target adipose fat cells, by inducing lipolysis, rupture and cell death among adipocytes.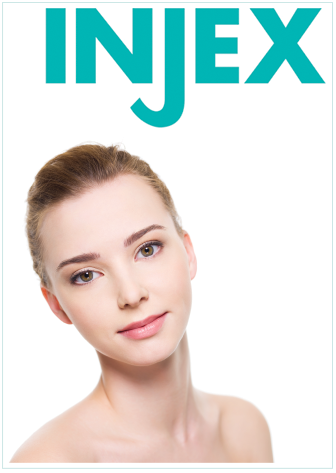 Mesotherapy is used for Medical or Cosmetic Conditions.
MEDICAL USES
Help Quit Smoking

Arthritis Pain

Carpal Tunnel Syndrome

Muscle Relaxation

Help with Anxiety and Insomnia

Chronic Infections

Bone Spurs
COSMETIC USES
Anti-aging

Eliminate localized fat deposits

Weight Loss

Cellulite Removal

Face and Neck Rejuvenation

Body sculpting

Hair Loss / Alopecia
Thousands of beauty salons around the world use INJEX50 Meso the most popular Needle Free System in the field of aesthetics.
INJEX50 Meso is the ideal solution for those who are prone to scarring and subcutaneous clots.
INJEX50 Meso is used in surgeries with Botulinum toxin type A, AKA Botox by Allergan and Disport by Ipsen and with Hyaluronic Acid.

The list of drugs used in Mesotherapy is exhaustive. Here are a few:
Phosphatidylcholine (PPC)

L-carnitine – Aminophyline

Hyalorunidase

Collagenase

Hyaluronic Acid

Glycolic Acid

Retinoic Acid

Multivitamins

Multi Trace Elements

Lidocaine (Anesthetic)
INJEX50 Meso needle-free jet injection system is used in many clinics mostly for pain management and mesotherapy in cellulite elimination, body sculpting (spot weight reduction) and skin rejuvenation with amazing results.
A special cocktail of vitamins, minerals and medications is injected directly into the layer of fat located just beneath the skin. The mixture injected is different for each area being treated. Once injected, this cocktail theoretically 'melts' away the fat by breaking fat cells down to the point where they can be flushed out through the bowels and kidneys. In the case of treating cellulite, the injection serves to weaken the connective bands of tissue which pin fat down, reducing dimpling and resulting in a cleaner appearance.
Because of the large area treated with mesotherapy a high level of discomfort and bruising when using a conventional needle and syringe is present, but is drastically diminished with the needle-free system. When using a needle and syringe the amount of pricks are more and closer together. Because the surface area to which the medication is exposed with the needle-free jet system you need less "injections" for the same results.
In aesthetic clinics, it is used for rejuvenation of the skin, injecting many types of injectables such as dermal fillers, and Placenta. Many aesthetic clinics see placenta as a folk remedy to help remove fatigue, menopausal symptoms, liver diseases and combat aging.
Anaesthetists also use INJEX50 Meso with lidocaine to anaesthetise the area before administration of an Epidural.

How the present Mesotherapy Technique supports beauty treatment?
Infiltration Technique to Subcutaneous
Normally this injection is popular for lipolysis as cellulite. The used injectable substances mainly qualify for helping to break down the fat (Lipolysis), accelerate to excrete the water out of cells (Lipo-Edema) and also accelerate blood and lymphatic circulation system. These systems stimulate the accumulated fat to be eliminated and burnt out from body. And focusing on body shape firming up for stronger tissue around the treated area, not be sagging after treatment.
Injection Method
Inject 0.2-0.5 cc per spot, depth 5-10 mm at wanted area especially for accumulated fat area from face, chin, back arms, abdomen, hip, thigh each point away about 1-2 cm. For better and quicker result, should take with Radio Frequency (RF) treatment. The medic will consider and evaluate the period of each time doing to suit with each patient. This treatment can be taken consecutively 5-7 days and after taking, the patient should drink much enough water and exercise for better of lymphatic circulation and accelerate waste excretion.2. Serial Intradermal Technique To Dermis
Injection substance to the upper fat level "Intradermal-Dermis (ID)". The substance will be slightly injected directly to wanted spot such as inject directly to under the blemish or maximized pore, wrinkle or stretchmark. After injection, it occurs a tiny red spot from the needle. This treatment can be taken every 1-3 weeks. It also helps stimulating collagen and elastin production for long term skin enriching.3. Nappage or Epidermal Technique to Epidermis
Slightly Inject to Epidermis level directly into wanted area, basically use for nourishing the skin around injected area; helping hair fall problem by injecting nutrient vitamin as point by point. Nutrient injection helps stimulating blood circulation. The used substance is similar to medicine, solving hair problem from heredity or men's hormones DHT. This treatment can be taken in every 1-3 weeks.